KB1GLF's UNOFFICIAL
SALVATION ARMY TEAM EMERGENCY RADIO NETWORK
Massachusetts
Web Page
Coming Soon !!!!!
The purpose of The Salvation Army Team Emergency Radio Network (SATERN) is to train and acquire personnel skilled in emergency communications and message handling, who will support The Salvation Army operations in local, regional and international disaster situations Our fervent hope and prayer is that our congregate service may indeed help mitigate the trauma and impede the potential widespread tragedy that is implicit in disaster.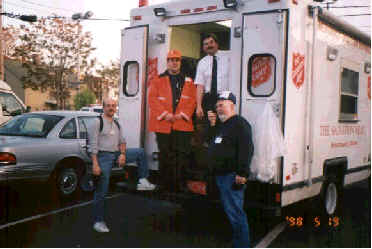 Chelsea, MA May 19, 1998 SATERN members respond to a nine alarm fire to restore Salvation Army Disaster Communications and ad a communications link with other agencies at the incident< L to R Renato Donadio (N1XBR), Mike Kass (N1YER),Major Robert Klenk (KC2BPA), Dick Doherty (KA1TUZ) >
If you would like to subscribe to the MaSATERNlist click here
This list will be used to keep those who subscribe informed of our activities and of SATERN activities around the world and about amateur radio in general
Click here to post a message to the MaSATERNlist. All submissions to the MaSATERNlist will be reviewed to cut out the unwanted advertising and other junk mail, you must subscribe to MaSATERNlist to post a message.
Training Calendar Related Links Member List Event Pictures
Application Form Net Preamble Emergency Gear
Massachusetts Divisional Page Coming Soon !
Visitors since August 19, 1999